Football fans watch out! It's that time of the year again, when the pretenders fail, and the real deal shows itself. Even the slightest mistake could cost your team the title, or worse, send them crashing down to the bottom.
It is in times like these that teams look to their leaders, players who would stand up and guide their team to glory. Let's take a look at these men who could determine the fate of the Barclay's Premier League 2014-2015 season.
8) Christian Benteke (Aston Villa)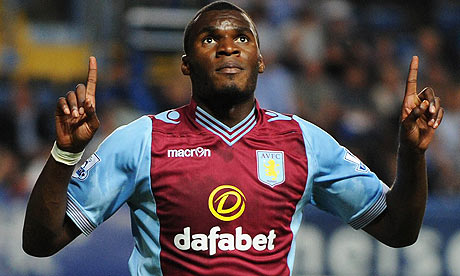 Currently having the unfortunate honor of being the team that has scored the least number of goals in the premier league this season, the Villains need a spectacular change in their form to save themselves for relegation. After smashing a sensational hat-trick against fellow strugglers QPR in a thoroughly entertaining midweek clash, Aston Villa will be hoping that Christian Benteke will be able to roll back the years, and save them from their inevitable plunder into the championship.
7) Kelvan Davis (Southampton FC)

When the saints began their season in astounding form, a major reason for their success was their rock solid defense, at the center of which was their summer signing goalkeeper Fraser Forster. However, after picking up an injury while away on international duty, he is now out for the season. Hence, all hopes fall on their highly experienced, but lacking in fitness keeper Kelvan Davis, who's form will be critical in determining if Southampton's fairytale start to the season, will come to a fairy tale end.
6) Harry Kane (Tottenham)

With every touch of his seemingly turning into gold, Harry Kane has been in colossal form this season! He's scored 19 goals in just 27 appearances this season and has single-handedly torn apart defenses! (The 5-3 demolition of League Leaders Chelsea comes to mind.)
Despite all his valiant efforts, they still lie 6th on the table, 7 points off a champion's league spot. But, over the years football has taught us to believe in miracles, and with the form he is in this season, Harry Kane, could well and truly be the miracle spurs need.
5) Jordan Henderson (Liverpool FC)

After initially struggling after his big money move from Sunderland over the last few years, this dynamic midfielder has grown in both skill and stature to become an integral part of Liverpool's team. With club legend Steven Gerard struggling to replicate the form of is glory days, the faithful will be looking towards Jordan Henderson to inspire them to a 4th place finish.
4) Juan Mata (Manchester United)

The diminutive Spaniard finally seems to be finding his feet in Old Trafford (and a place in Van Gaal's team,) it comes as no surprise that his fine run of form has been rewarded with The Manchester United player of the month award. The Red Devils will be hoping that the flair and creativity of Juan Mata, will be enough to help them secure a top 4 position and a ticket back into the champion's league. Who knows, maybe even a late push for the title.
3) Vincent Kompany (Manchester City)

The once untouchable "captain supreme," has been brought down to his knees this season. Colossal goof ups in pivotal games have left his reputation in shambles, much like his teams title challenge. They currently lie 9 points behind Chelsea (who themselves seem to be struggling at the moment,) with only 7 games to play, and having played a game more than Chelsea. Manchester City will be hoping that their once mighty captain Vincent Kompany will roll back the years, and help his team snatch the title right out of Chelsea FC's grasp, however unlikely it may seem right now.
2) Olivier Giroud (Arsenal FC)

With 6 wins from the last 6 games, Arsenal FC have managed to defy all expectations and now seem to be the most likely team to snatch the EPL title from Chelsea FC'S grasp. Surprisingly, the man behind it all is their much maligned French striker Olivier Giroud, who has suddenly rediscovered his long lost form. With Arsene Wenger dreaming of over-taking Chelsea and completing what would be the most unlikely title turnaround one has ever seen, a lot will hinge on Olivier Giroud and his Goal-scoring form.
1. Cesc Fàbregas (Chelsea FC)

After beginning the season in great from, Chelsea FC looked all set to stroll towards yet another premier league medal, but a sudden slump in form and several uninspired performances have led to critics questioning the team's ability to retain their early season momentum. Fingers are being pointed at none other than their star summer signing, Cesc Fabregas. The Spaniard's recent sloppy performances have made his early season heroics seem like a distant memory. Cited as a reason for his boyhood club Barcelona letting him go in the summer transfer window, Fabregas has been notoriously famous for his inexplicably poor form at the business end of the season.
Now would be a great time for Fabregas to prove his critics wrong and inspire his team to their first premier league title.