Are you one of those people who has no clue what to do after work? Even if you are hanging out with friends, do you wish you could do some new places to visit or new gigs to watch? Here's Bayside Journal's – Mumbai: Aaj Ka Scene, a list of events that you can attend this weekend.
Saturday, March 18, 2017
The Irish House St. Patrick's Day Carnival

It's the time of the year when you bring out your green hats and gear up for a grand Irish experience as we bring to you the third edition of our St. Patrick's Day Carnival. Live performances, games, pop ups shops, and lots of chilled beer!
Have a blast singing out loud during our Karaoke sessions. When you get thirsty, head to The Irish House Bar in the courtyard and get yourself a chilled green beer. In case beer makes you more hungry, we have amazing food waiting for you at our pop up kitchen. And while you are at it, test your limits with our Man VS Burger challenge!
Play fun games and have a great time with the live performances by renowned artists. Take a moment to rejuvenate as Rohit Vasudevan goes unplugged. Then, turn your Saturday upside-down with a power packed performance by Dualist Inquiry. The next day, gather your friends and bring out that inner musician in you with Djembe drumcircle by Taal Inc. End your day with an insane session by one of India's top bands, Best Kept Secret.
When: March 18 – March 19, 2017
Where: High Street Phoenix High Street Phoenix, Senapati Bapat Marg, Lower Parel, Mumbai, India 400013
Time: Mar 18,12:00 – Mar 19, 22:00
Price: Entry is free
Contact: 022 4333 9994
ODD At Mumbai

Two day ortho lecture for UG and PG aspirants preparing for NEET, DNB, AIIMS, PGI and JIPMER
When: March 18 and 19, 2017
Where: Mysore Association 393, Bhaudaji Road, Matunga Road, Mumbai, India 400019
Time: March 18 – 8:00 a.m., March 19 – 6:00 p.m.
Contact: 8800222009

Prodology'17

VJTI's PESA (Production Engineering Students Association) is organising Prodology, the annual national level technical fest of Dept. of Production Engineering, VJTI. The 2017 edition of Prodology is being held on 18th and 19th of March.
Prodology'17 has a wide range of technical and fun events such as Technical Paper Presentation (TPP), Case Study, Group Discussion, Mechanics, CAD Wars, Hackathon, Technical Quiz and many more. Prodology in association with Innovation Cell IITB is also conducting a 3D Printing Workshop.
Prodology'17 is also conducting a reunion for the VJTI Production Alumni and also celebrating the Silver Jubilee of the 1992 Batch on 18th March.
When: March 18 and March 19, 2017
Where: Veermata Jijabai Technological Institute
Time: March 18 at 9:00 a.m. to 19 March at 7:00 p.m.
Contact:
Tickets
Montage Vol 2.0

Two Days Master class on Speedlight and Composite Photography
The workshop is going to be a fusion of Composite and Advertising Photography. What would do photographers heavily rely on? Lighting, right? What if photographers are challenged to take photos and create photographs with the same finesse that they produced in photographs taken under proper lighting? Many will become skeptical and scoff at the idea. However, this workshop is totally avant-garde because it will show the participants the technique of taking photographs in dark/ semi-dark and sometimes dirty places. Participants will learn how despite making minimalistic use of lighting equipment, the end result could be an extremely professional looking advertising image.
When: March 18 to March 19, 2017
Where: Mumbai Pune Road, Kausa Village, Mumbra, Thane 400612, India
Time: March 18 at 9:00 a.m. to 19 March at 6:00 p.m.
Contact: 096208 30837
Tickets
Mumbai Midnight Cycling
Who is a Mumbaikar? Google says one who is born in Mumbai, but we Wandering Souls would define it as the one who celebrates every second of the 24-hour clock just like AAMCHI Mumbai, the city that never sleeps.
New to Mumbai, didn't experience the nightlife yet or planning your weekend or need a different experience of Mumbai midnight getaway, our 35km cycling event is the perfect one for you. What could be more special than experiencing Mumbai at night and yes, the icing on the cake, Mumbai breeze, hot chai and beautiful street lights.
Anybody who recalls Mumbai visualizes the iconic Gateway of India that stands on Mumbai harbour facing grandeur TAJ Mahal Palace. This is where our ride will begin and we will end at Nariman Point crossing the C shaped Mumbai Jewel, The Marine Drive. Apart from the coastline there lies enormous playgrounds surrounded by antiquated British structures touching Raja Bai clock and Mumbai high court passing through meticulously crafted flora fountain in the midst of the city. Then comes Bollywood favourite chai spot, 'The Hornimon Circle'. Experience the breath-taking skylines from Worli Seaface of beautiful Worli Sea-link and high rise buildings of Worli that reflects modern Mumbai, then we will touch upon Haji Ali Dargah located on an inlet off the coast of Worli.
When: March 18, 2017
Where: Colaba Causeway Road, Apollo Bandar, Colaba, Mumbai 400001, India
Time: 22:30
Price: Renting Cycle – Rs. 800/Person || Rs. 750/Person (For Group of 4 or more) • Bringing Own Cycle -Rs. 450/Person || Rs. 400/Person (For Group of 4 or more)
Contact: Saurabh: 9820997659 OR Sabijit: 9833157583
ANK Presents Beewion Ka Madarsa at D.G.Khetan Auditorium, Malad
Haneef Mohammed did not marry, firmly believing that all women are dishonest and cheat their husbands but then decided to custom-make his bride. The beautiful and comely Husnara is now 16 and Haneef Mohammed's wedding plans are underway when they are rudely interrupted and the fruits of his labour seemed to be falling in another lap…….but Haneef Mohammed has the advantage of age, experience and money and with the precarious assistance of his doubtfully devoted servants, meticulously sets out to outwit this young upstart of a suitor.
When: March 18, 2017
Where: D.G.Khetan International School malad, Mumbai, India 400067
Time: 7:00 p.m. – 9:00 p.m.
Price: Rs 300-350
Contact: anktheatre.preeta@gmail.com
Tickets
Saturday Night At Club Exo St Regis 37 th Floor. Pop up party
When: March 18, 2017
Where: Exo Bar Palladium, High St. Phoenix,Lower Parel, Mumbai, India 400074
Time: 10:00 p.m.
Contact: 9769015210
Groove to the Beats of DJ Shy-O at La Nuit by Sofitel
Experience the best of the Parisian nightlife with local culture at Artisan, Sofitel Mumbai BKC this weekend. La Nuit is Sofitel's new signature party concept designed for cosmopolitan travellers and stylish socialisers. Celebrate the largest signature party concept, La Nuit at the glittering party venue featuring saxophonist Ekaterina with the world-renowned French DJ Shy-O.
When: March 18, 2017
Where: Artisan, Sofitel Mumbai BKC
Time: 10:00 p.m. – 3:00 a.m.
Contact: 082681 52599
Uno + Jenga tournament at Reise All Day Bar & Kitchen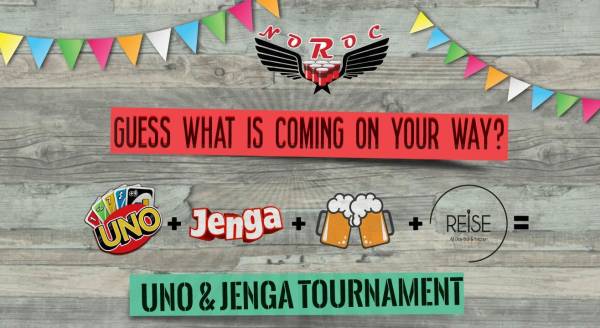 Unwind, unplug, and relax. Does that sound like just what you need? Then it's time to call some friends and invite them over for an
Uno + Jenga tournament at Reise All Day Bar & Kitchen. With a menu filled with game-friendly foods, inventive alcohol deals, and an ice-cold glass of your favorite cocktail, you're in for an engaging evening of delicious fun.
More and more people are rediscovering the simple pleasures of playing board games, dice, and cards with family and friends. This games night is going to be an ideal way to do that with a little bit of healthy competition and lots of laughter. So you better hurry!
Rules of the tournament:
For Uno: A total of 3 games will be played per table for the first round making it a knockout style tournament. The person who comes last in each game will be knocked out of the tournament. The person who wins all 3 rounds (or best of 3) will move forward to the next round competing with the other winners from other tables.
For Jenga: It will either be a 1 on 1 or a team based tournament. It will be a knock out style. The person/team who drops the Jenga will be eliminated.
The winners of the tournament can avail 2 beers per day throughout the month.
The evening would be co-ordinated by Noroc which is a new-age company founded by two young enthusiasts whose mission and objective is to bring you closer to concepts, objects and experiences that you've never witnessed before and they specialize in curating and executing a fun games night.
When: March 18, 2017
Where: 45, Tarun Bharat Society, Dr Karanjia Marg, Near Cigarette Factory, Chakala, Andheri East, Mumbai, Maharashtra 400099
Time: 03:00 p.m. – 08:30 p.m.
Price: One tournament at Rs. 300/- & two tournaments at Rs. 500/-
Contact: 022 3383 6086
Tickets
Sunday, March 19, 2017
Breakfast Ride at South Mumbai
HIGHLIGHTS OF THE RIDE
1. Maska Bun / Kheema pav at Olympus
2. Empty South Bombay roads
3. Lots fun while riding
ITINERARY
Our Journey will start from "MAD OVER DONUTS" COLABA CAUSWAY 6.30 restaurant we are going to do breakfast after ride which is well known for its old charm and they serve Yummy Bun Muska and Kheem pav and bread omelette . There is option for vegetarian also. Will start our breakfast ride at 7.15. Sunday early morning is different face of Mumbai, these monuments are also in their deep sleep its holiday to them. Also being Sunday I feel its very different face of South Bombay on every Sunday morning. Box cricket matches in most of the lanes, lots of joggers on Marine Drive as it's Sunday. After exploring all the things will end our ride till 10:00 am.
When: March 19, 2017
Where: Colaba Causeway, Mumbai, India
Time: 6:30 a.m. to 10:00 a.m.
Contact: 7838984471, 9718341991, 01142156013
Tickets
Motorcycle Ride To Soma Wines

Bikester brings you the opportunity to experience grape stomping and wine tasting at Soma Vine village in Nashik
Mesmerise yourself by partaking in a grape stomping tour at Soma Vine Village in Nashik famous for its large vineyards and pristine surroundings.
After the stomping, amble along the beautiful location and fall in love with the undeniable serenity.
Taste and learn six different types of wine at the Soma Wine tasting session.
When: March 19, 2017
Where:
Time: 6:00 a.m.
Price: Rs 1750
Contact: 7977810991 bikesterindia@gmail.com
Tickets
Gangs Of Wasseypur 1&2 Back to Back in Dadar

Gangs Of Wasseypur 1&2 Back to Back in Dadar
Part 1 : 10.00 am
Part 2: 1.10pm
Both shows need to be booked separately.
When: March 19, 2017
Where: Jaihind Mukta A2 Cinemas Dr. B.A. Road, Mumbai, India
Time: 10:00 – 16:00
Prices: Rs.150/- onwards
Contact:
Tickets
Chai and Why? A Whole New World of 2D Electronics
Electronics and mechanics of "2-dimensional" materials (ultra thin layered materials that are only a few atom thick) are exciting as they offer an opportunity to make devices such as transistors with better performance and offer new functionality at the same time. Such 2D materials like graphene and MoS2 allow us to study physics that could not be explored in electronic devices in the past. A new scheme for classifying matter is also a consequence of this ongoing 2D materials revolution.
About the speaker: Prof. Mandar Deshmukh works in the nanoelectronics area where his group at TIFR has made several contributions in the area of graphene and other 2D materials.
When: March 19, 2017
Where: Hide Map D. G. Ruparel College of Arts, Science and Commerce Senapati Bapat Marg, Matunga West (Western Railway), Mumbai, India 400012
Time: 11:00 a.m. – 1:00 p.m.
Contact:097571 57795
Football Match screening at Old Wild West
Old Wild West, is a wild, rustic dimly lit bar with an authentic Wild West décor, walls adorned with portraits from life on the ranch which makes one feel like stepping back in time. They will be hosting a Football match screening on this Sunday 19th March at 10 PM at Old Wild West between MAN CITY and LIVERPOOL.
The menu includes wholesome meals and deliciously hand crafted cocktails at pocket friendly prices which also include their special cocktails and signature shots. Treat your taste buds with their Tex-Mex dishes which includes Tex-Mex Chicken Skewers, Sweet & Smoky Chicken wings, Chicken Quesadilla, Bacon Barbecue Beef Burger, Mexicali Veggie Burger, Texas style Chicken Burger, Mexican Fudge Brownie Delight. Also the cocktails will take you all the way to the city of Mexico, with a lot of tequila based cocktails on their menu; you can indulge in their signature drinks like The Smoking Word, Mexican Carnita, Spiced Martini, Caribbean Bull.
When: March 19, 2017
Where: Old Wild West, First Floor, Trade View Building Oasis Complex, Kamala Mills Compound Pandurang Budhkar Marg Lower Parel, Mumbai.
Time: 10:00 p.m.
Contact: 022 6537 6677 for reservations
Unplugged Nights at Tre
This weekend sit back, relax and unwind with the UNPLUGGED NIGHTS at Tre, which is going to add a little rhythm and soul to your lazy sunday evenings. Flow with the acoustics with Jigar as he escalates your senses with his unique sound of music.With the blend of Alternative/Progressive Rock music, Sufi EDM and Bollywood impeccably integrated, as he will warm cockles of your heart.
Apart from the intriguing music, you can indulge in their specially curated tantalising bites to satiate those cravings. From Lebmax Nachos(A fusion preparation of pita bread hummus and cheese), TRE Tandoori Tikka  to Pinwheel Tortilla wraps Wrap (Tandoori paneer wraped in home made tortillas and delicious mustard sauce) to their various options for pizzas like Exotic Pizza, Nawabi Pizza, Fantasy Pizza (Topped with onions, capsicum, cottage cheese and coriander) and classic Margarita Pizza, along with some amazing concoctions like White Wine Sangria, Cinova, Pan Angoori, Black Apple Martini and many more.
With the perfect setting for a laid back Sunday evening, lose yourself into some exotic sheesha flavours like with a modern twist.
When: March 19, 2017
Where: 25, Raghuvanshi Mills Compound, SB Road, Lower Parel, Mumbai
Time: 8:00 p.m. onwards
Contact: 9987769252
Afternoon Tea at Tea Trails
Afternoon tea is the ultimate indulgence, if one is looking to indulge in an uninterrupted afternoon with perfectly brewed teas whilst biting freshly baked bites then Tea Trails, Vile Parle is the place to be. With its elegant and relaxed atmosphere and fine collection of fresh leaf teas and homelike food, Tea Trails, Vile Parle has newly launched a new High Tea Menu.
The menu selection includes food that comes on a exquisite sharing style traditional tiered stand. One can choose their favorite Green Teas from Chamomile Green Tea or Ginger Green Tea and Chais from Masala Chai or Adrak Chai. There are also freshly baked Palmieres and your favorite Bun Maska to go with your tea.The classic selection of sandwiches served with High Tea which allows guests to choose any three includes Chutney Cheese Sandwich, Mediterranean Veg Sandwich, Smoked Sandwich, Cucumber & Cheese Sandwich & Potato Cheese Grill Sandwich. The Quick Bites selection allows one to choose any two from Veg Puff, Samosa, Pakoda & Bread Pakoda. End it with a sweet treat with Cupcakes like Chocochip Cupcake, Banana Cupcake and many more. Also, one can treat themselves with their variety of assorted teas with various blends and added benefits, flavours ranging from white to green tea and oolong to herbal tea and delicious bites.
So don't forget to visit Tea Trails, Vile Parle for an uplifting experience with their High Tea setup which offers a generous selection of inventive sweet and savoury dainties, washed down with exotic teas only for INR1200+taxes for a group of four.
When: Ongoing
Where: Kingston Building, Ground Floor, Tejpal Road, Near Old Railway Crossing, Vile Parle (East), Mumbai- 400057
Time: 1:00 p.m. to 5:00 p.m.
Price: INR 1200+taxes (serves four)
Contact: 9022337766
Neon Run
When: March 19
Where: MMRDA Grounds, BKC
Time: 5:00 p.m. to 10:00 p.m.
Tickets
The most premium lifestyle and running experience! With glow-in-the-dark colors, neon accessories and party props the Neon run is the hottest running festival coming to Mumbai!