Winter has come. That means hot coffee, warm clothes and long skirts. Unfortunately, it also means dry skin and cracked lips. Priyanka Bobade, all of 19 years owns her own beauty parlour called Priyanka Beauty Parlour in Dadar, Mumbai. She tells you how to avoid bad skin during this season.

1. Moisturize
Apply moisturizing cream on your body and face. During winters it's very important to moisturize your dry skin repeatedly throughout the day.

2. Use Lip Balm
Lips have the softest skin and tend to dry up and get chapped. So, use a lip balm which has at least SPF 15. This will keep them soft and non flaky. You can also apply petroleum jelly or butter on them.

3. Drink Water
Even though you won't feel thirsty water is very important for your skin. Drink lots of water. It keeps your skin hydrated and clear. Drinking less water causes it to loose hydration making it dry.

4. Go For Regular Pedicures
Go for a pedicure. We forget to take care of our feet during winters. If you don't wish to spend money on a pedicure you can just exfoliate and moisturize them at home instead. Give your feet a nice massage too while you're at it.

5. Use Petroleum Jelly
Petroleum jelly is the cheap and best moisturizer for your skin. Use it to moisturize your feet, cuticles and hands rather than spending money on expensive moisturizers.

6. Avoid Hot Baths
Yes, it's very tough to not use hot water for baths. Use lukewarm water instead. Hot water baths make your skin dry up. Also moisturize immediately after taking a bath.

7. Don't Use Soap
Soap makes your skin dry so, use body wash instead of soap. And if you can't then use soap on alternate days. Take a plain water bath or use a mixture of banana and milk instead of soap.

8. Use Homemade Masks
Make face packs and masks using avocado, honey, tea tree, olive oil and yogurt. All these things moisturize your skin and make you glow even in the winters.

9. Protect Your Skin
Cover up. Wear gloves, socks and jackets to cover yourself up and protect your skin from the winter. Use sunscreen. Winter or summer the sun can damage your skin so, it's very important to apply sunscreen and protect your skin from the harsh sun rays.

10. Try Overnight Moisturizing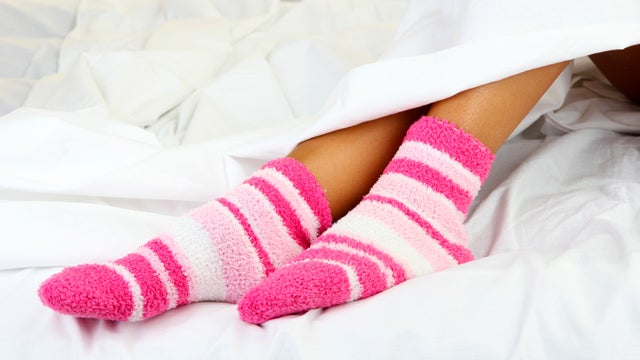 Before you go to sleep apply moisturizer. It's very important to do this as this allows your skin to rejuvenate and absorb the moisture properly. Also moisturize your feet and wear socks before going to sleep as this will prevent them from cracking and drying up.