Some celebrities use their money to buy yachts and Porsches; some use their fame and money to help the environment and give back to society. These celebrities have leveraged their fame and resources to make the world a better place.

1. Ashton Kutcher
Ashton Kutcher and his ex-wife Demi Moore founded Thorn, a company that fights against sexual exploitation of children. In 2016, 2,020 child victims of sexual exploitation were identified. Thorn partners with tech companies such as Facebook, Google and Microsoft who in turn bring their time and resources to help identify victims and predatory behaviour.

2. Avril Lavigne
The popstar has founded The Avril Lavigne Foundation R.O.C.K.S. for children & youth with disabilities & serious illnesses. They raise funds so kids and youngsters with disabilities can get money for their treatment.

3. Didier Drogba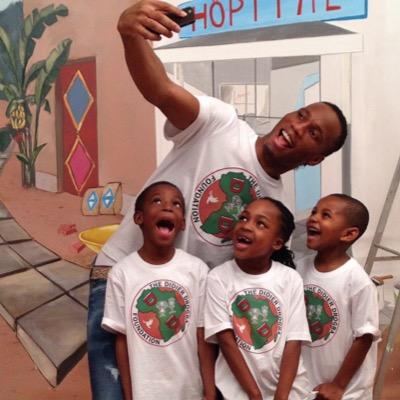 Former Chelsea striker Didier Drogba helped stop a civil war in his native Ivory Coast. After the Ivory Coast qualified for the 2006 World Cup, Drogba asked combatants to lay down their arms, which the fighters did, ending five years of civil war. He donated the £3 million endorsement fee from Pepsi for the construction of a hospital in his hometown of Abidjan.

4. Dolly Parton
The country music superstar founded the Dollywood Foundation, which gives free scholarships to high school students. In 1995, she started The Imagination Library, a free children's book distribution program. The program now helps about 1 million children each month. When a fire broke out in her hometown of Gatlinburg, Tennessee, she pledged $1,000 a month to newly homeless wildfire victims for six months through her "My People Fund".

5. Elton John
He established the Elton John AIDS Foundation in 1992 which has raised over $300 million and funded programs across four continents. They are focused on improving the quality of life of people living with or at risk of HIV and help de-stigmatise the disease.

6. John Cena
WWE star John Cena is the world's biggest Make-A-Wish superstar. He has granted the most wishes through the organization, with more than 460 wishes fulfilled. Cena takes a lot of time out from his busy career to personally meet these kids. He was also named the second-most charitable athlete in the world in 2015.

7. Harrison Ford
Ford sold his iconic Hans Solo leather jacket for $191,000 and the proceeds went directly to nonprofit 'Finding a Cure for Epilepsy and Seizures' (FACES). He has also rescued people in his own helicopter. He has made several trips to Haiti in his own helicopter with medical professionals and supplies after the devastating earthquake on the island.

8. Hugh Jackman
The actor and his wife established the Jackman Furness Foundation for the Performing Arts to support the performing arts in Australia. The foundation helps nurture talent by improving the quality of their educational experience. He once raised almost one million dollars for charity with three weeks of performances on stage.

9. Keanu Reeves
Keanu gave an estimated $80 million of his $114 million earnings from The Matrix films to the special effects and makeup staff. He took a pay cut for films The Replacements and The Devil's Advocates so the film could afford actors like Gene Hackman and Al Pacino and stay within budget. He took care of his sister after she was diagnosed with leukaemia and has donated to various charities and hospitals over the years.

10. Michael J Fox
The actor's early diagnosis of Parkinson's Disease led him to establish the Michael J. Fox Foundation for Parkinson's Research, which is the largest nonprofit funder of Parkinson's disease research in the world and has invested more than $650 million in research to date.

11. Paul Newman
Hollywood legend Paul Newman may be no more but his charity, Newman's Own, lives on. The food production company gives 100 percent of the after-tax profits to educational and charitable organizations. The company has generated USD 450 million for charity since 1982.

12. Yao Ming
The retired Chinese basketball player established The Yao Ming Foundation after the devastating 2008 earthquake in Sichuan Province, China. The Foundation has helped build schools in the affected region and helped fund the construction of more than 9,000 primary schools in poverty-stricken areas. Ming Yao teamed up with the conservation nonprofit WildAid to raise awareness about the dangers of shark fin soup, and the killing of sharks for their fins went down by 50 percent!