For centuries people have embraced numerous kinds of methods, all in the name of looking good. Every few years, or in this case, year, new beauty trends emerge. It can be something comparatively normal like a new lipstick shade or hairdo or something plain weird like eyebrow extensions and glittery roots. Social media makes sure these trends spread like wildfire and before you know it's viral and all over the internet. 2015 was no stranger to weird beauty trends so let's look back at the most bizarre ones.

1. The Kylie Jenner Lip Challenge
The youngest Jenner posted a picture of herself with suspiciously plumped up lips (which she later admitted were fillers) and her followers on social media went nuts. From drawing their lips a little wider to even risking disfigurement by putting their mouths in a bottle to get that coveted swollen bee stung lips, people made sure their efforts were seen by hashtagging #KylieJennerLipChallenge on social media.

2. Eyebrow Extensions
Sparse eyebrows were once very popular. Shaving your eyebrows off and pencilling them is a bygone beauty trend. Now since thick eyebrows are in thanks to the bushy browed Cara Delivinge, people have resorted to eyebrow extensions for those thick bushy brows.

3. Clown Contouring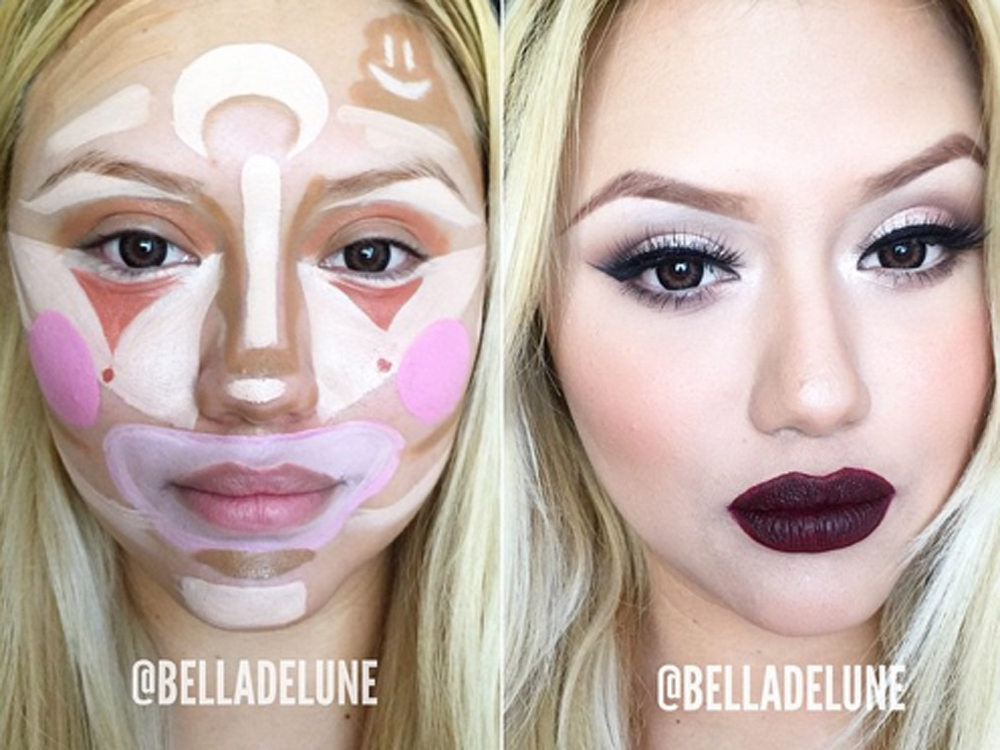 The amount of makeup one has to put to get a chiselled face results in applying a lot of products on the face which can make one look like a clown. Enter clown contouring, where foundation, sometimes bronzer and blush on the face are all used at once. Blending techniques are then used to shape and contour the face. It's complicated but beauty bloggers swear by this look.

4. Hangover Makeup
Japan is the land of weird fashion trends and this year's current weird trend is the hangover look. Women aspire to create a sickly looking face by applying blush under the eyes, using techniques to create puffiness under the eyes and a wet hair look. All this to appear like they have returned haggard from a hectic night out.

5. Glitter Roots
A few years ago neon hair was the rage, now it's glitter roots. People apply glitter (which sometimes resembles sparkly dandruff) to their hair roots for a sparkly effect. Rainbow roots, where the roots are dyed the colours of the rainbow are another popular trend.