You know those times where you don't know how to begin to talk about something? This is one of those times. Although the band I write about this time, is one of those, whose music is one I connect to extremely well, it is hard to describe how it sets rhythm to the nerves in my system. The band in question has been one of Mumbai's much talked about bands on the indie scene and has proudly displayed their musical genius at the Enchanted Valley Carnival and the Magnetic Fields music festivals, two of the most talked about music festivals in India. After a whirlwind of performances across the country, Sky Rabbit, the Mumbai-based electronic/alternative band, settles down for a moment to answer our questions while in transit.
The band was selected in 2008, by legendary music producer, John Leckie, whose body of work boasts of collaborations with Pink Floyd and Radiohead, to work with him on 2 tracks for the British Council's Soundpad CD. Talking about their association with one of the most acclaimed names on the international circuit, Raxit Tiwari, the band's vocalist says, "Working with him was an absolute privilege given that he knows our kind of sound really well. Soundpad was a great platform that provided us with this opportunity to work with a person of his calibre and to tour the UK as our very first international tour." Speaking further about the process they use to create sounds that reverberate long after the music has stopped playing, Rahul Nadkarni, the guitarist for the band, says, "A jam is always filled with different energies as inspiration doesn't really lie in the music but outside of it and music is the medium to express that for us. One can feel spontaneous or go through days of thoughts but it's something we don't really think about.
What makes these young minds bubbling with creative energies stand out is their knack of hitting each note and creating fluid melodies which grows on the listener. Although it's a known fact that the band, formerly known as Medusa, which released an album in 2005, called the 'Survival of the Fittest', had a completely different set of tunes for their audience. Their debut album, in their brand new avatar as Sky Rabbit, which released in 2012, took many by surprise; but was the shift a conscious one, we ask. "It was a bit of both. I think we were heading very naturally towards a different sound and approach to writing music; but one of the reasons the old sound died out sooner than later was because a couple of the members of the band left and for a long time it as just two of us sitting down and putting tracks together", rues Raxit.
After their rechristening as Sky Rabbit in September 2011, the band has only gone on to touch dizzying heights of admiration from all quarters of the music fraternity. Their live performances are the things made of high octane energy coupled with progressive beats that resonate in the atmosphere. On being asked to choose one of their most memorable gigs so far, Rahul says, "It's hard to pick one, but maybe Ziro Festival just because everything comes together in such a beautiful way there." The bandmates list Blue Frog in Mumbai and The Humming Tree in Bangalore as some of their favourite venues to perform at. On looking back, what were their thoughts on their journey? "It's onward and upward from here on. We are currently working on an EP which we plan to release in October", Raxit says.
As one hears the sounds that the band produces, you realise that it is reflective of their life experiences, a fact they seem to agree upon. Emotions are not tangible, they say. "It finally does come from the experiences you have and the world around you. Everything connects to our environment in some way. So, again, it's not a conscious decision to write music that emotes a particular thing or talks about a particular experience, but it ends up communicating these things as a natural course because they're so intertwined with creating something", Raxit quips. Unlike any other industry, where contemporaries are considered to be a threat, the Sky Rabbit boys actually admire some of their very prolific colleagues like Sulk Station, Don Bhat + Passenger Revelator, Supersonic and Pentagram. "There is no reason to feel insecure it's a fantastic atmosphere right now", gushes Raxit.
With the growing number of independent bands in India and Bollywood perking its ears up to add a slightly 'different' dimension to filmy gaana, what is Sky Rabbit's take on this shift? "Our jam room sessions are mainly focused on taking a song and trying to help it find its own shape and feet. There are interesting film makers doing very interesting work and I guess like with all collaborations if you can meet half way and actually find common grounds then it could be a lot of fun", says an equally zealous Rahul. And before I almost let the thought of the quirky names of their songs slip out of my mind (read: Anti-Coke Ganpati, Sweet Smile Diving), Rahul is quick to respond by saying, "Raxit is the one who writes the lyrics for all our songs and also comes up with the names." Coming back to their work, there was a nip in the air which indicated an international collaboration, again. Only this time, with another alternative rock band, 'Young The Giant' who gushed about Sky Rabbit's potential to a section of the media. Brushing aside such allegations, Raxit says, "We are glad they like our music. We met them for a couple of drinks while they were in Mumbai and it was a good evening."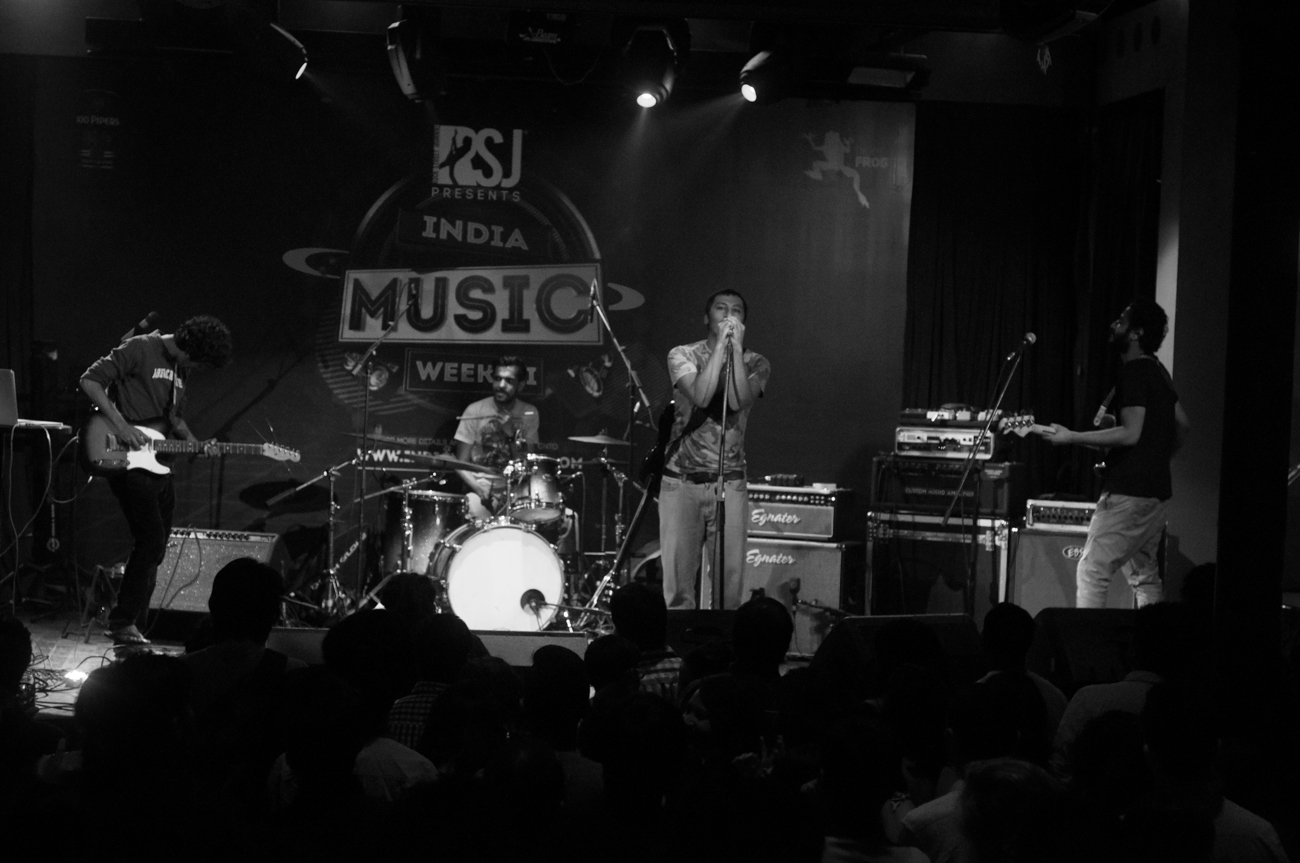 As the interview reaches its final leg, I was still awestruck by the fact that the band, in its infant stage was one among the many aspirants chosen for the Soundpad project and yet, they stood their ground amongst the stalwarts. "It's hard to answer this question but the feedback we got was that we have a unique enough sound to stick out amongst the rest", retorts Rahul. Nevertheless, he signs off on a high note by appreciating the rapidly changing face of independent music by asserting, "Things are looking up. There are more festivals springing up, new venues opening in cities all over the country that are dedicating nights to independent music." "This gives more individuals the opportunity to express themselves musically and reach wider audiences", he signs off as the band takes flight. Again.