Enough of pizzas and pastas. It's now time for some authentic desi food, specifically from the state you live in, Maharashtra. The misals, kandapoha, kothimbirvadi and more!
Here are a few of the best Maharashtrian restaurants in Mumbai.

1. Diva Maharashtracha
One of the most authentic and tasty Maharahstrian hotels in Mumbai, Diva has its branches at Mahim and Andheri. You'll love the kolambikhichadi and the prawns karanje. Chicken bali bali is one of the many awesome starters you can have.
Cost- 1000 bucks for two.

2. Purepur Kolhapur
Having 3 branches, the one in Vile Parle being the best, the resto is known for its Kolhapuri thalis. Go, hit the table and order for the tambdarassa and pandhrarassa. The chicken and seafood is a must try as well. The amazing varieties of mutton and chicken meals will satisfy even the biggest glutton.
Cost: Rs 650 for two people.

3. Panshikar Aahar
Your heart will go out to the amazing traditional good food they serve. The misalpav is a must try. Even the simple masalabhaat and pooribhaiji are good. The solkadi, kokam and piyush are refreshing and as for the sabudanawadas, no one makes them better. The best place for a Maharashtrian snack. The two branches are at Vile Parle and Girgaum.
Cost: Rs 200 for two people.

4. Aaswad
Aaswad, at Dadar, Shivaji Park, is one of the many amazing Maharastrian restaurants in Dadar. The kothambirvadi, misalpav and thalipith are lip smacking. It is unarguably one of the best Maharashtrian restaurants in Mumbai. A little short on space, but the amazing food more than compensates for it.
Cost: Rs 225 for two people.

5. Mama Kane
Another masterpiece from Dadar, Mama Kane is best for a quick, tasty and kattar Maharashtrian dishes. You'll love every authentic Maharashtrian dish here especially the kothambirvadi, misal, poha, kandabhajji.
Cost: Rs 180 for two people.

6. Vinay Health Home
Probably the best place for Maharashtrian food in South Bombay, Vinay is one of the most pocket-friendly places. The standard dishes are surely great,  Kothambirvada, sabudanawada and bajji. But the usal and misal are more than delicious, it is the best you'll ever taste.
Cost: Rs 250 for two people.

7. Tambe Arogya Bhawan
Another joint from the heart of Maharashtrians in Mumbai, Dadar. It's all about maharashtrian food. Every Marathi snack in the book is just too good. If I had to pick one, I would say the misal is the best!
Cost: Rs 200 for two people.

8. Gajalee
Gajalee has 5 outlets across Mumbai and each one is amazing. Here, you can enjoy Maharashtrian sea food. Though not an 'all exclusive' Maharashtrian resto, it is one of the best when it comes to Maharashtrian sea food. I just cannot recommend a specific dish, all the seafood dishes here is a paradise for your tastebuds.
Cost: Rs 900 for two people

9. Gypsy Corner
Dadar never runs out of Maharashtrian joints. Here's another gem from Dadar. It is a terrific place for Marathi food, from the misal to the kokum sharbat. For the sweet tooth, srikhandpuri is finger licking. Although it is located besides Gypsy Chinese, once you enjoy the amazing Maharashtrian treat at the 'corner', the Chinese will be a thing of the past!
Cost: Rs 250 for two people.

10. Mee Marathi
Vile Parle is packed with some amazing Maharashtrian rests and Mee Marathi is true to its name. The taste makes up for the ambience. Just like other joints, most of the dishes here a must try.
Cost: Rs 300 for two people

11. Jai Hind Lunch Home
This amazing lunch home boasts of six outlets across Mumbai, each one rated above 4.0 on Zomato. How about that! Another outlet that is known for its amazing seafood. Rice bhakris, Prawns koliwada, Surmai fry thali or any other fish dish for that matter are exceptional.
Cost: Rs 400 for two people.

12. Aram
Another amazing vegetarian only resto from South Mumbai, Aram has two outlets around the Mumbai CST and Fort area. The misal, thalipeeth and batatavadas are to die for. It is also one of the most famous places for vadapav. Its red garlic chutney is sure to ignite your tastebuds and leave you wanting more.
Cost: Rs 200 for two people.

13. Shridatta Boarding
Situated near Ganesh gully in Lalbaugh (Parel), SDB offers authentic Maharashtrian non-veg food. It also offers a wide range of Maharashtrian kombdi wadelis. It is one of those Konkani food joints, that gives equal emphasis to both meat & fish.
Cost: Rs 400 for two people.

14. Ladusmarat
Ask any person living in the Parel area about Ladusamrat and just watch their face light up instantly. That's how amazing Ladusamrat is. Their vadapavs are so amazing, that people form queues for hours to get a hand on them. And every other Maharashtrian food item on the menu is top-notch. Just DO NOT forget to visit this place when in Lalbaugh.
Cost: Rs 300 for two people.

15. Saibini Gomantak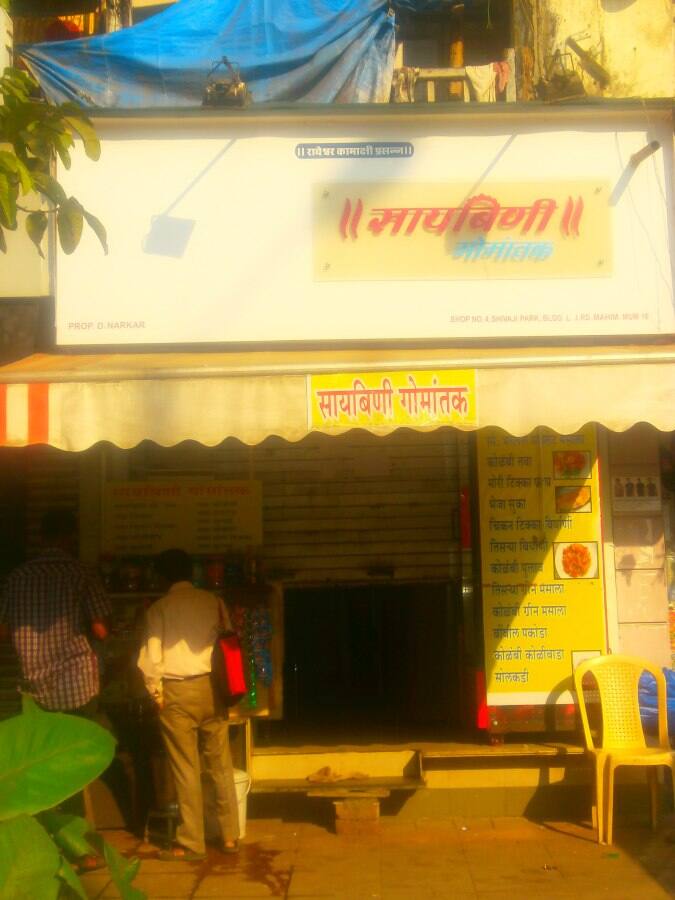 Located in Dadar, this hotel gives absolute value for money. Must-haves include kombdiwadi, prawn koliwada, crab masala and the prawn biryani. In short, it is a seafood lover's paradise. Have your meal, accompanied by solkadi by your side. Their special stuffed pomfrets are divine.
Cost: Rs 550 for two people.

16. Anand Bhuvan Hotel
An all-exclusive Maharashtrian restaurant, 'Anand bhuvanHotel' is a must visit. Not to be confused with 'Anand Bhuvan' at Kalbadevi. When a place offers your 3 different types of misal based on the spice levels, you know you've reached a place that is at just another level of awesome. Misal-pav lovers, just let it all go! The chutney with batatawada, is epic.
Cost: Rs 150 for two people.

17. Hotel Kshirsagar
Situated near Ganesh gully, Lalbaug, it is an amazing place for non-vegetarian Maharashtrian food lovers. Every fish item, the bheja fry, mutton rassa is amazing. A good place for seafood lovers in Mumbai and at a cheap rate.
Cost: Rs 250 for two people.

18. Prakash Restaurant
Another gem from our very own Maharashtrian paradise, Dadar. Located near Shiv Sena bhavan, this is the best, I repeat, THE BEST Maharashtrian restaurant. Specialties? EVERYTHING! I mean, Marathi cuisine just cannot get better than this.
Cost: Rs 250 for two people.