Sweet shops in Kolkata are a dime-a-dozen. There's one on every corner serving various kinds of mithai. Most of them are good or else they wouldn't run (the residents would make sure of that). There are a few though that stand out far above the rest. Their mishitiis are iconic and every resident, tourist, practically every person in the city must have sampled them. Here are the top historical sweet shops that form an integral part of the city's culture.
1. K.C Das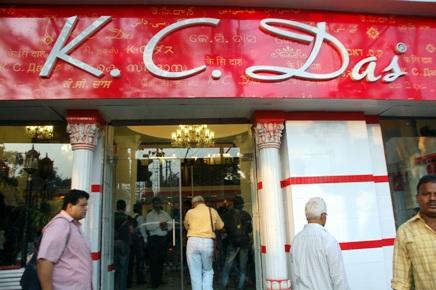 Established in 1866 by Nobin Chandra Das who many believe is the creator of the modern roshogolla in 1868. He also created the custard apple sandesh, the jackfruit sandesh, "Dedo Sondesh" and "Baikuntha Bhog. Needless to say their rasgullas are a must try.

2. Sen Mahasay
Ashutosh Sen set up this humble sweet shop way back in 1897. His creations include 'Ratabi Sandesh', 'Pink Pera', 'Malai Chop' and 'Abar Khabo. His cake sandesh, golapi sandesh Peshwari sandesh are awesome too.

3. Nalin Chandra Das and Sons
Established in 1850 this fourth generation shop is known for their various types of sandesh.  Chocolate Sandesh , Rose Cream, Orange Cream, Ice-Cream Sandesh, our mouths are watering just reading these!

4. Girish Chandra Dey and Nakur Chandra Nandy
Established in 1844 this shop is known for their inventive creations such as their gurer barfis, Mousumi(sandesh stuffed with nuts & coconut),  Sourabhmoy(chhanna with sugar globules & pista). They supplied sweets to Abhishek Bacchan's and Aishwarya Rai's wedding too!

5. Balaram Mullick and Radhraman Mullick 
Another Kolkata institution established in 1885 they are known for their Aam Doi, Baked Roshogolla, Kajur Sandesh and Notun Gurer Roshogolla. They also have laddoos, chocolate mithais (they taste amazing). No trip to Calcutta is complete without a stop here.