There are plenty of rumours about how many leading beauty and skin care products have hazardous metals and chemicals added in their products, which can lead to cancer and other dangerous consequences. The Indian rules and regulations can be easily bent by a heavy wallet and hence you never know what you're slapping on your body and face. To avoid applying products with harmful chemicals switch to organic brands. Here are my five favourites:

1. Khadi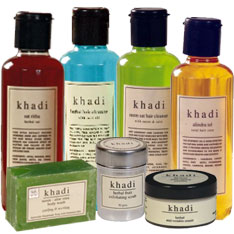 Khadi has a wide range of products from skincare, body care and hair care. They are made of organic products found in your kitchen and are super affordable too. Their face packs and shampoos are spot on. The products have jasmine, rosewater and neem. The neem facewash is great for acne prone skin. You definitely need these products in your vanity box.

2. Himalaya Herbals
It's a well known brand and occupies a prominent place in supermarket shelves. The products are very safe and mild I can say that from personal experience as I have sensitive skin and Himalaya products are one of the products that suit me the best. Their walnut face scrub one of my personal favourites. Their clarifying mud mask is also a best seller.

3. Fabindia
Fabindia first started out as a retail store for garments and furniture, but they also have a line of skincare products as well. The products are all natural based, ranging from scrubs to soaps to essential oils. The Charcoal face mask and Vitamin E daily cream is a must have. They also make after shave lotions for men which come in travel sizes as well.

4. Nirvaaha
Nirvaaha is another great option for those are particular with only chemical free products. Their body care range is super. Their Aloe Mud Cleanser is a 100% safe option, and it helps clear your face from acne and scars as well. They have hair care products, like their organic shampoos and oils to stop hair-fall. They have ear, nose and eye drops too.

5. Forest Essentials
Forest Essentials use Ayurvedic methods and products to formulate their products. Their lip balms are famous and live up to the expectations. This brand is much more pricey than other organic brands, but they have a wider variety to chose from. Their ingredients range from almond butter, apricot, coconut milk and many more products with healing properties.