Looking for your life partner on Shaadi.com or Bharatmatrimony.com is as good as shopping online on Flipkart or Amazon.
Today our world revolves around internet, online shopping, online learning, online food ordering, online friends, online games, online movies, online reading' and the list continues. Here's how 'shopping'/searching for a life partner is kind of like shopping for shoes.

1. Registration/ Create an Account
The very first step is registration or to make an account whether you are looking for a guy/girl of your match on matrimonial sites or you are shopping on the online shopping sites. You have to register in order to give your basic personal details so that your further surfing on the site could get customized and also looking for particulars gets easier for you.

2. Gujarati, Marathi/ Clothing, Furniture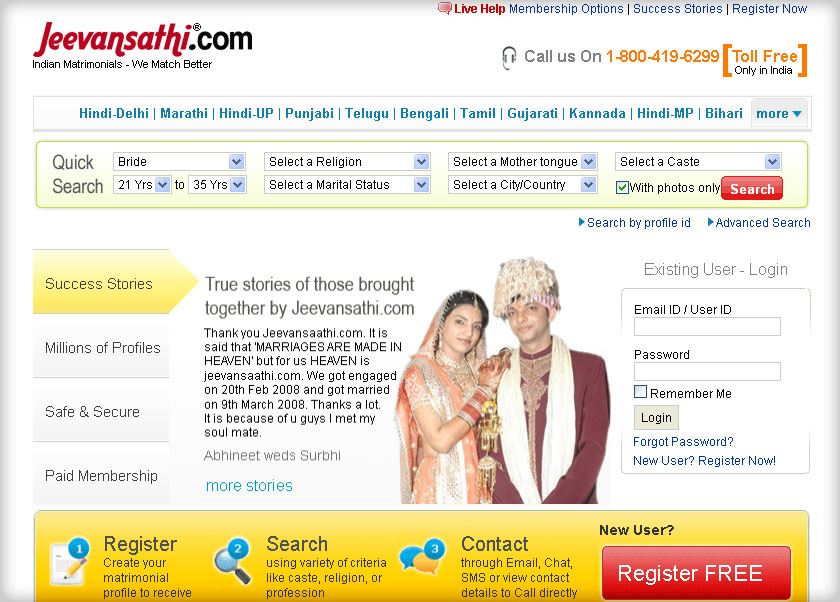 Once you have registered on the site, next step is to further segregate what you are actually looking for, on the matrimonial sites you select which caste you wish your partner to be and mention further specific details that you are looking for in your partner and on the shopping sites you decide which category you want to shop from like clothing, electronics, books, and etc. and then you further select from broad sub categories to get to the specific product that you wish to shop.

3. Wide Variety of Boys and Girls/Wide Variety of Products
Be it matrimonial sites or shopping sites they offer you wide variety of choices as per your likings and tastes and then you can select from the wide range of choices. On the matrimonial sites you have choices like an NRI, business man/woman, location wise choice and so on. On shopping sites you can select from a range of brands like AND, Mango, Only differing according to the products that you is looking for.

4. Features of Guy or Girl/Features of a Product
Once you have shortlisted some on matrimonial sites you could go and check out their features look closely in each and every selected boy/girl see details like their hobbies, qualification and their height, skin tone and etc.While shopping for products you could go and check out their features like fabric, color, size and etc differing according to the product selected by you.

5. Members You Have Shortlisted/Your Cart
When you login you get an updated list of the members that you have shortlisted on matrimonial sites which you could check out and give a thought. On your shopping sites you get all the shortlisted items available in your cart which you could shop for as and when you like

6. View Similar Profiles/View Similar Products
You always keep getting notifications to view similar profiles in case of matrimonial sites or to view similar products in case of shopping sites as per your earlier preferences.

7. Discount on Classic Membership Packages/Discounted Offers
To lure customers giving Discounts seems to be the most popular strategy, be it either matrimonial or shopping sites huge discounts and offers are offered to the customers to get a competitive edge.
Matrimonial sites offer discounts on the membership packages, these various types of memberships offer varied privileges to the members to further interact with the other members on the site and shopping sites give huge discounts on as many products listed on the site to keep their customers happy.

8. Millions of Matches and Counting/ Millions of Happy Customers and Counting
Matrimonial sites have successfully have helped millions to meet their life partners and want many more to find their perfect matches on their sites. Online shopping sites have made shopping a much easier and an amazing experience for many shoppers on these sites and are aiming to reach many more.: 1,2,3,4,5,6,7,8,9