IIPM (The Indian Institute Of Planning And Management) is shutting down according to their website. They are not going to be taking any new students and the campus will be shut down after the current batch finishes it's course. They plan to operate only in Delhi as a research and knowledge sharing institution. We tried calling their number and inquiring about the institute and  the call was immediately cut. A call back informed us that the number was switched off.
IIPM has been involved  in several controversies. In June 2005, Just Another Magazine (JAM) published an article accusing IIPM of misleading students and the public with its advertisements by using institutional rankings published in 2003 which were no longer valid.
They have also been accused of misleading the public with false claims of partnerships with various companies and universities. An article by Mahesh Sarma in 2009 reported that the University of Buckingham had told him that although they were in talks with IIPM, there was no formal agreement yet and that until IIPM's programmes are formally accredited by the QAA, IIPM does not have consent to mention the University of Buckingham in its advertisements.. According to Sarma, after Careers360 published its article, IIPM removed the name of University of Buckingham from its advertisements.  IIPM registered a case against Careers 360 and their case was quashed by the Uttarakhand High Court.
Judge Business School told Sarma that they were delivering a "five-day non-degree executive education programme" to IIPM students at the University of Cambridge, and that "there are no university qualifications awarded from Cambridge University or Judge Business School. The only certificate is a certificate of attendance which is what we provide to participants on all our programmes."
IIPM has also been accused of paying editors to remove content that criticizes them from their Wikipedia page.
They have been involved in two high profile court cases in the recent past. In 2014, 22 students filed a complaint with the Khar police station in Mumbai. The police filed a cheating and criminal breach of trust against IIPM. The students paid between Rs. 10 lakh and Rs. 18 lakh for the international programmes. Neither were they taken for the international study tours as promised nor were their results declared even a year and a half later. "We were forced to sign a declaration stating that we have successfully completed our degrees and that there is no other obligation pending," said a student.
In 2015, the Delhi High Court filed an FIR against IIPM founder Chaudhri. The UGC has said the IIPM was "misleading", "cheating" and "fooling" its students as it was not recognised by any regulatory body according to the police. IIPM's offering of the BBA and MBA title is illegal and students using that title are also likely to be prosecuted.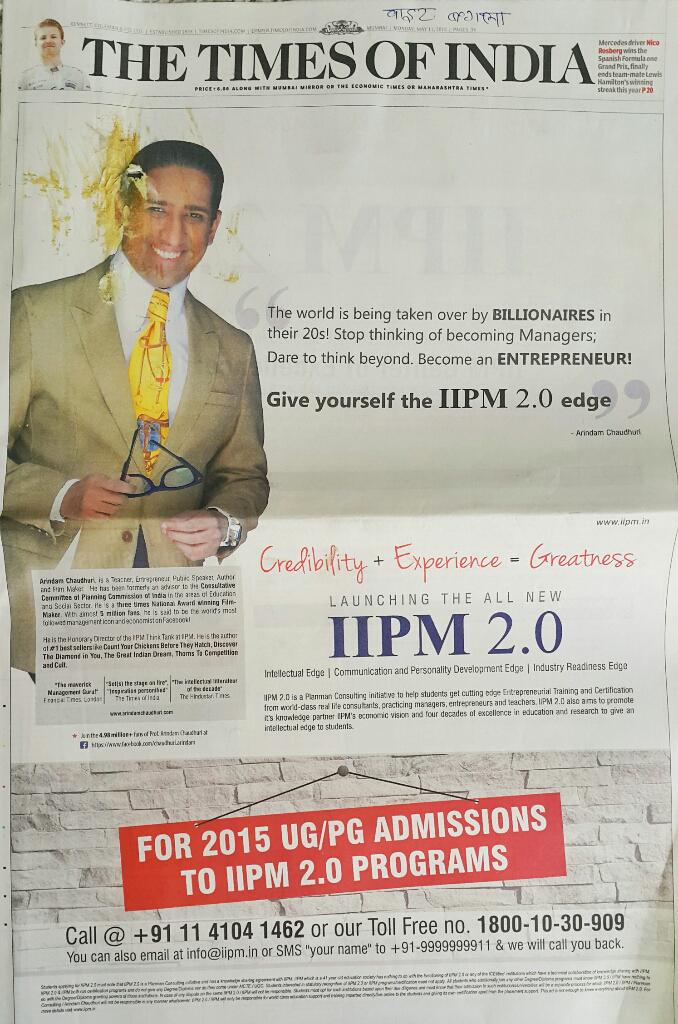 IIPM and it's eccentric pony tail wearing founder, Arindam Chaudhri, have fought back. According to the claims that the IIPM is not recognised by an statutory body he says, "We have never claimed that the institute is recognised by any statutory body nor have we claimed we give degrees." In May, 2015 he launched IIPM 2.0 complete with a full page ad in a leading newspaper. "IIPM 2.0 is a Planman Consulting initiative and has a knowledge sharing agreement with IIPM. IIPM, which is a 41- year old education society has nothing to do with the functioning of IIPM 2.0." Needless to say this ad was ridiculed all over.
IIPM was founded in 1973 and reportedly has 18 campuses around India. Arindam Chaudhri, self proclaimed marketing guru has been posting front page ads in newspapers listing out the institute's 'credentials' for several years. He promises free laptops, international study tours and placements at top companies in his ads. He has even managed to get Shah Rukh Khan to perform and host a quiz at IIPM events. He also produces movies.
Savvy management students have long known that IIPM was a little more than a sham. Respected professors have always told students 'Go anywhere but IIPM".
What will all the students do now? The only career option they had with a IIPM degree was to teach at a IIPM.