After the US supreme court legalized same sex marriage, the whole world is celebrating, most of us anyway. Films have in some part played a role in our perceptions about the LGBT community. These movies portray their struggles and relationships and are a must watch.
1. Blue Is The Warmest Color
It is a French movie about a lesbian relationship which was considered a front runner for an Oscar nomination for the best foreign film and success at Cannes Film festival winning the Palme d'Or from the official jury. The movie revolves around Adèle, a french teenager who discovers desire and freedom when a blue -haired aspiring painter enters her life. This movie will touch your soul and will leave you loving the protagonist
This movie is intense and will stay with you a long time The movie is 179 min long ,but every minute of this movie is worth watching. This is my personal favourite and you guys must watch it too.

2. Margarita With A Straw
You guys cannot miss this film! This movie talks about the sensitive issue of the frustrations and helplessness attached to the unfulfilled sexual desires of a disabled person. As the word thinks that disabled people as sexless beings, this movie is a brave movie that will challenge the perception about the disabled

3. Pariah
The story revolves around a 17 year old African -American teenager embracing her identity as a lesbian,risking friendship,heartbreaks and a family in a desperate search for sexual expression. A must watch.

4. My Beautiful Laundrette
Daniel Day -Lewis , starred as Johnny ,a punk who begins a secret affair with his best friend named Omar,from Pakistan who inherits a launderette from his uncle. The film deals with tumultuous relationship between white and Asian people under Margaret Thatcher controlled UK.
Their forbidden relationship, steet bawls, racial slurs ,kisses and strict cultural customs complicate this critically acclaimed movie.

5. Laurence Anyways
The director of this movie is one of the youngest filmmakers .His movies focus on homosexuality and self discovery. The movie is set in the 1990s. A happy young french teacher confesses his desire to become a woman .The film talks about accepting love along with accepting your own skin. It also talks about loving yourself and respecting your own decisions.

6. Circumstance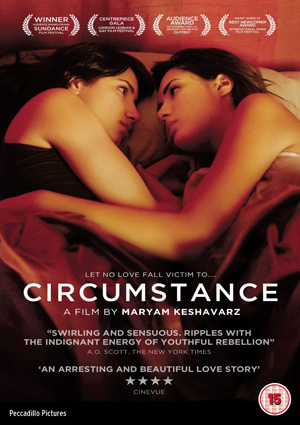 Atafeh(Nikohk Boosheri )and Shireen (Sarah kazemy ) happen to fall in love with each other in morally policed Lebanon. Lebanon is still controlled by the militant Islamist group Hezbollah. This was not shot as a commercial endeavour as there was lot of risk to make a lesbian movie. But the risk was worth it. This movie will take you on the roller coaster ride of love, heartbreaks ,uncontrollable love against customs, traditions and self -imposed rules.

7. Happy Together
From a great director from Hongkong who is famous for his love stories,Wong kar-wai beautifully showed the relationship of gay couple who travel together to Argentina. It is both beautiful and sad and amazingly shot and shows the journey of the two men and their tragic love story with ups and downs. Brace yourself for this one.

8. Yours Emotionally
The film raises issues of cultural identities and challenges stereotyoes. The movie has raised issues about gay rights.

9. Fire
This is one of the first movies which depicted a lesbian relationship in India. The Deepa Mehta film starring Nandita Das and Shabana Azmi remains synonymous with homosexuality in Indian movies. Here the movies talks about the two woman who come togther to fulfill their passions which ignored by their spouse.This film is must a watch as it portrays a poignant relationship between two people.

10. Pride
One of the most feel good movies in the recent past. This movie is based on a true story of U.K gay activists fighting for miner's rights during the miner's strike of 1984. Heart warming and backed by performances by a stellar cast, this movie will have you crying tears of joy.