Mumbai loves eating out. Street food, fast food, fine dining, this city has no dearth of options. Mumbai, being the commercial capital of India has plenty of HNIs (High Net Worth Individuals) who don't mind dropping a few grand for a fine meal. The city has its own fair share of foodies too who don't really hesitate to spend thousands on a single meal. So if you have been saving up to dine at a super fancy restaurant or you just have too much cash to burn, here is a list of restaurants that serve excellent food (that are probably worth it).

1. Wasabi by Morimoto- The Taj Mahal Palace
Rated as one of Asia's Best Restaurants in 2013, this restaurant offers authentic Japanese cuisine by renowned super chef Masaharu Marimoto. he is known for his unique style of presenting food. The ingredients are flown down from Japan. The ambience is splendid. Incidentally this is the same place where Saif Ali Khan's famous brawl with a fellow took place a few years ago but that shouldn't deter you.
Cost for 2: INR 12,000 approx.

2. Masala Library, Bandra Kurla Complex
This restaurant helmed by Jiggs Kalra is on the wishlist of food lovers all over the city. They are known for presenting Indian cuisine with unique flair. The Maple & Kokum Lamb Chops and The Rasmalai Tres Leches are among their noteworthy dishes. It's almost always packed and reservations must be made in advance.
Cost for 2: INR 5000 approx.

3. Hakkasan, Waterfield Road, Bandra
The Indian outpost of a Michelin star award winning restaurant based in London. They are known for their dimsums and Cantonese food. A popular and fashionable restaurant with a really cool atmosphere.
Cost for 2: INR 5,000 without drinks.

4. Dum Pukht, ITC Maratha
This is the place to go if you want real navabi cuisine. From the decor to the cutlery everything about this restaurant is regal. The dum pukht biriyani and the kakori kebab are stellar.
Cost for 2: INR 5,000 without taxes.

5. Yuuka, The St. Regis Mumbai
An upscale modern Japanese restaurant which is a must for fans of sushi. Seafood lovers will be delighted. They make pretty neat cocktails too.
Cost for 2: INR 8,000 approx.

6. Seven Kitchens,The St. Regis Mumbai
An all day cafe serving various cuisines. They are known for their extensive buffet lunches and dinners. They are well known for their Sunday Brunches which have live music and free flowing premium liquor and wine.
Cost: Sunday Brunch, INR 2800-4700 per person.

7. Golden Dragon, The Taj Mahal Palace
They are known for being one of the best fine dining Chinese restaurants in the city. The ambience is classy and the food, always good. The dimsums, fried rice and the seafood are all spectacular.
Cost for 2: INR 5,000 approx.

8. Shamiana, The Taj Mahal Palace
Another Taj mainstay this 24 hour restaurant is known for their buffet spread. They serve North India, Continental and Asian food. The gulab jamun and rabdi are popular and so are their buffet spreads.

9. Souk, The Taj Mahal Palace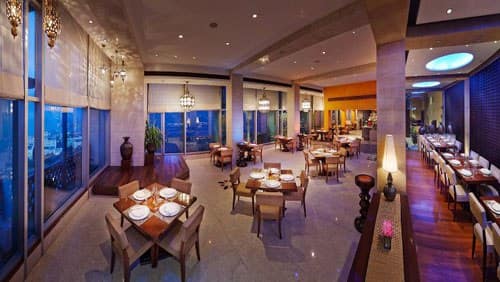 It's no surprise that the Taj hosts so many many fine dining restaurants. Among their repertoire is another restaurant that serves excellent Mediterranean and Lebanese cuisine. Great service and dishes like the moussaka, mezze platter and the tagines will please even the food snobs. To top it off you have a spectacular view of the Arabian Sea and the Gateway of India.

10. The Table, Colaba
This restaurant focuses on the food more than most places. They serve the food as soon as it's prepared. It was voted the Best Restaurant in India (Critic's Choice) in 2014. They even grow their own vegetables to ensure patrons eat fresh locally sourced produce. A restaurant with global influences that serves excellent European cuisine. The Zucchini Spaghetti, Truffle Pasta, Korean Bbq Beef are well liked.
Cost for 2: INR 4,000 approx